With Ki's School Lunches you can order healthy and tasty lunches for your child from your home or office with our simple online ordering system. Ki's then delivers the meals directly to your child's school.  It's just that easy!  No hassles. No worries.
Please see our Frequently Asked Questions page for additional information about our lunch program. Information is there for:
Creating your account
Adding your children to your account
Placing Orders
Cancelling Orders
Changing Orders
Late "Surcharge" Orders
Emergency Lunches
It is Ki's objective to provide students and staff members with fresh, nutritious, and natural foods. We are very selective about the food and drink products we provide and we are dedicated to serving balanced meals at affordable prices. We are also dedicated to making your life simple. You may order lunches for one day a week, two days a month, or everyday of the school year, we have no minimums. Our only requirement is that you order by Noon the day before (you may order up to 8:00 AM the day of with a late fee).
We also offer the flexibility of cancellation. You can cancel a lunch for full in-store credit up to 8:00 AM the day of, provided you log on and perform the cancel online. Just click on Cancel Order next to your child's name and then Cancel Order in the day you wish to cancel.
Our ordering calendar is specific to each of your children's schools and classes. Holiday's and Field Trips are programmed in to help you plan your child's lunches (provided the school has informed us of these days off).
The picture below is an example ordering calendar. From this page you can:
view all of the available entrees and their associated prices
select the entrees you would like for any day
view and select additions
view the items included with each day's menu (click on the blue View Menu button in that day)
view the ingredients of each items using your mouse to click on the item in the View Menu window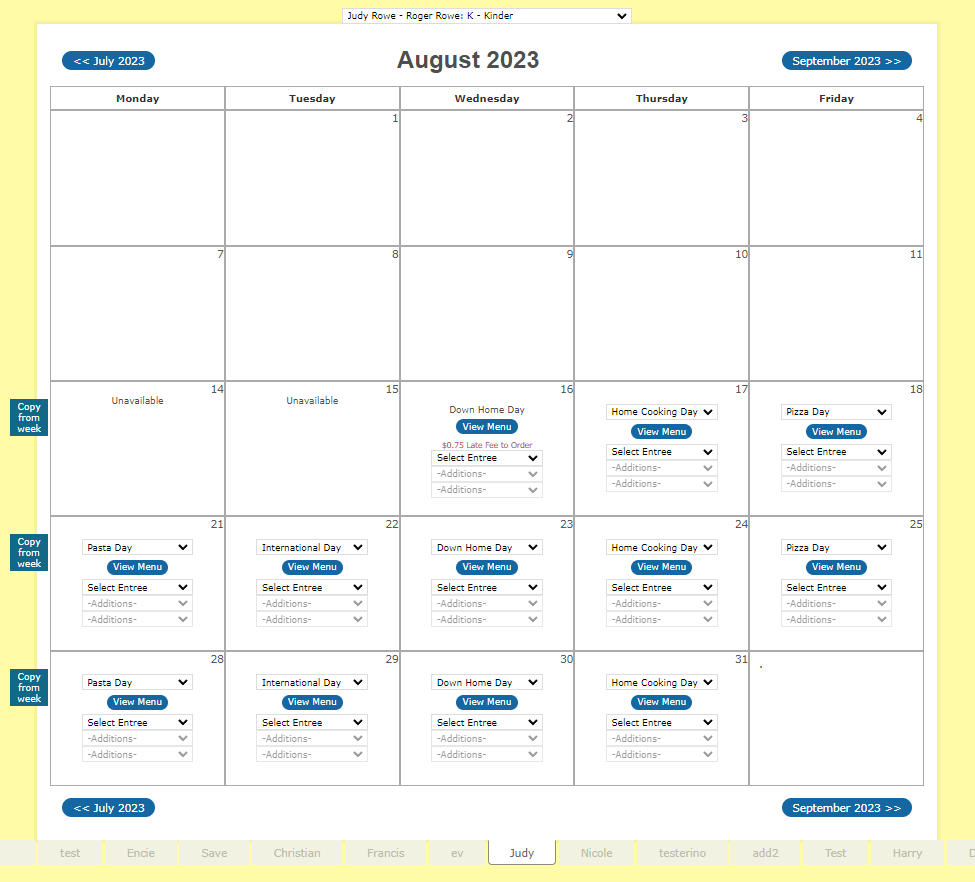 Each full school day, Ki's School Lunches will offer a choice of at least 20 hot lunch entrees, assorted sandwiches and wraps and freshly made salads. Along with the entrees is a set of included items based on the theme of the day. For example, Pasta Day is served with Garlic Toast and assorted fruits and vegetables (served Veggie Bar style). All the available entrees, available additions and the included items can be seen for each day by clicking on the View Menu button within that day.
Specials for the month are indicated with an asterisk, like *BBQ Chicken Pizza.
Each day's basic meal is portioned to satisfy a grade school student's appetite. Since your second grader does not eat like your high school athlete we offer some special items sized for adult appetites, and we offer the possibility to add second entrees or side orders to any meal. For example, some of our sandwiches are served as a 1/2 sandwich but can be made a full sandwich simply by ordering the first 1/2 sandwich as an entree and then selecting the same 1/2 sandwich in the Additions, however, we also offer a large variety of whole sandwiches. Salads and Subs are exceptions, they are sized for an adult or growing child's appetite. You can add a Side Salad or a Cup of Soup to any day. You can order a second entree, either a second serving of the meal entree you selected or a side order of a different entree, the possibilities are almost endless.